Giving Tuesday
November 28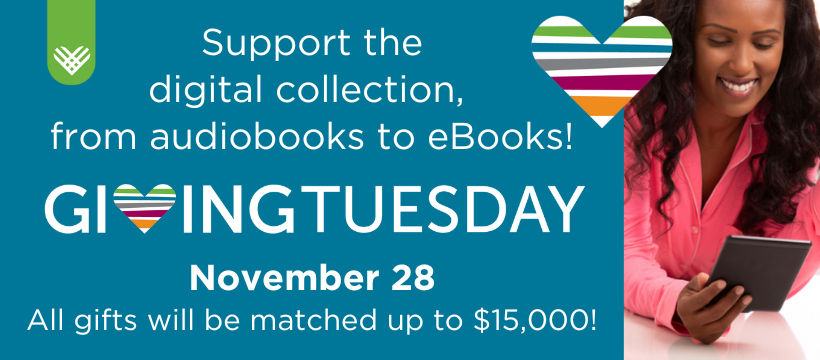 SCROLL DOWN TO GIVE
Madison Public Library Foundation is participating in Giving Tuesday  on Tuesday, November 28. This celebration of generosity and charity is an excellent opportunity to support Madison Public Library!
This year, a donor family with a love of audiobooks and a drive to share the digital collection with everyone is providing a $15,000 matching gift for the library's digital collection, so your Giving Tuesday contribution will go twice as far!
The library's extensive digital collection includes but is not limited to:
• eBooks
• audiobooks
• newspaper subscriptions
• digital magazines
• Gale business resources
• Kanopy movie streaming
Many digital collection items incur longer wait times because materials are more expensive than print materials. Donations will expand the digital collection, help those who face barriers to visiting the library by offering materials they can access from home,, and increase the number of audiobooks, which are popular among those with vision impairment.
If you're looking to support a worthy charitable cause on Giving Tuesday, look no further than Madison Public Library Foundation! You can make your donation now through the end of the day on November 28 – but be sure to give by midnight so your contribution counts toward the match!
Visit our social media pages for Giving Tuesday updates.